Residential
Cleaning Services
---
Making life easier for business owners and managers across Lubbock and the South Plains
Reliable Cleaning. Professional Results.
As a homeowner, we understand you have a number of things on your growing to-do list. We also don't think ensuring your home remains spotless and clean should be one you have to handle on your own.
We know inviting someone into your home is a big deal. All Maid In Heaven cleaners are carefully checked out by our West Texas cleaning company, so we choose the right person to care for your home.
Professional & Experienced
Customers highly rate them
History & reference checked
Instead of spending your precious downtime sweeping, scrubbing, and mopping, spend it relaxing in a spotless and comfortable space professionally cleaned by the experts at Maid In Heaven.
What Does Standard House Cleaning & Sanitizing Services Include?
A basic house cleaning addresses all the key areas of your home from the bedroom to the kitchen and everything in between. This also includes any special rooms you have, including playrooms, home gyms, or offices.
During every service our team vacuums all carpets, rugs, and flooring. Any tile, wood, vinyl, or laminate flooring will be cleaned based on the needs of the material used. Additionally, we dust, wipe, and clean all of the surfaces in the home. This includes furniture, counters, doorways, and décor.
---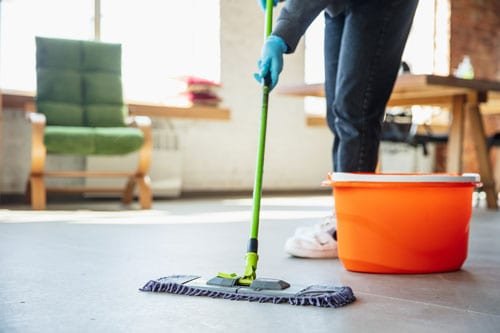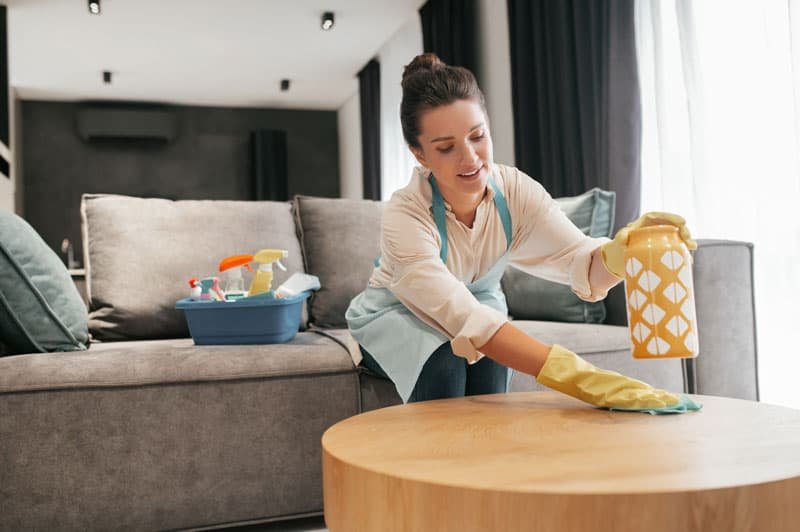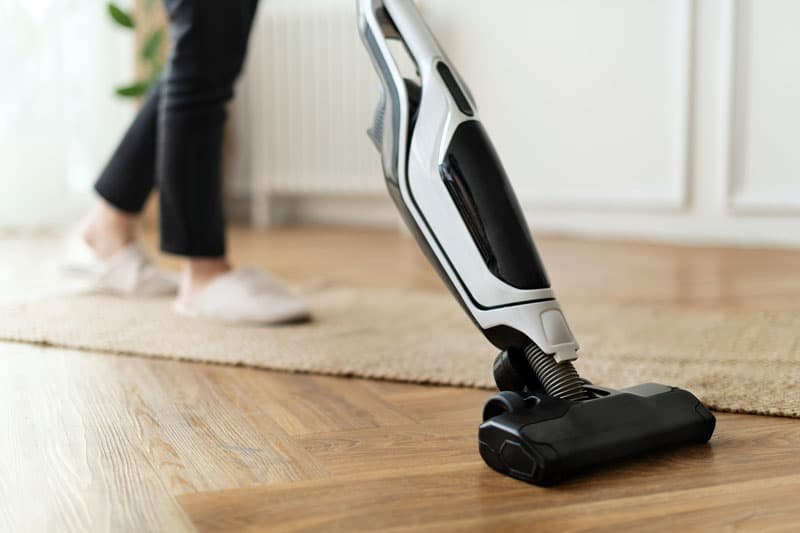 Of course, we don't stop there. Below are just a number of some of the other cleaning services we provide to various homeowners throughout Lubbock and surrounding communities.
Clean Out Cobwebs

 

- Dealing with cobwebs? They can be as scary as they are annoying, so let our team take care of it. From the ceiling to the baseboards, we will help rid your home of cobwebs.
Tidy Shoes

 

- To help keep things as clean and organized as possible, our team can help tidy up areas of your home such as the bedroom, living room, or entryway shoe rack.
Disinfect Door Handles and Light Switches

 

- Our team routinely disinfects door handles, light switches, and other commonly touched surfaces in the home. This helps remove any harmful bacteria or viruses living on the surfaces, protecting your whole family.
Mop Floors

 

- From the kitchen to the bathroom, we'll come equipped with everything we need to mop your home's floors. This ensures a deep clean that keeps things looking – and smelling – fresh!
Straighten Pillows and Linens

 

- Who has the time to make their bed when you need to be out the door in 10? Our team will straighten pillows and linen in the home to ensure everything is as organized and tidy as possible before you return home.
Empty and Replace Trash Bags

 

- Regardless of the room, we'll empty all of your trash into the appropriate receptacles and replace the trash bag so you don't have to. This makes trash day easier than ever!
And More

 

- The cleaning experts at Maid In Heaven are prepared to deliver just about any cleaning service you could need. If you're looking for something else not listed above, don't hesitate to reach out! We're here to provide all the cleaning and sanitizing services your home needs.
---
WHY HIRE MAID IN HEAVEN CLEANS
Because We Are ....
Maid In Heaven Cleaning Services aims to establish and maintain excellent working relationships with clients. We provide timely service and answer customer questions and concerns quickly. We are duly bonded and insured.
We're not a franchise company. Rather, we're proud to be classified as a minority and women-owned small business. We achieve stability through diversity and offer a wide range of trusted, commercial cleaning solutions.
Utilize our services month-to-month on an as-needed basis. Our focus is on customer satisfaction and availability when our clients need us most. We do not require yearly commitments or long-term contracts.
Whether you need day time cleaning, nightly pressure washing or anything in between, our staff is available to assist. We offer our services 24/7 to ensure we can meet your commercial cleaning needs.
---
We Strive For
100% Satisfaction
---
Since 2016, our dedicated team has been delivering exceptional cleanings to homes throughout Lubbock and West Texas. We spend countless hours every year in businesses just like yours. This experience has prepared us for spaces of every kind and allowed us to develop advanced techniques and processes that will deliver unrivaled results.
We proudly back our detailed cleaning services. Simply put, if you aren't entirely happy, let us know within 24-hours and we'll be sure to make it right.
---